Dorothea Healing flower essence
When we are on a healing journey, flowers and herbs can help us in matters of the body, mind and soul.
In fact, ancient cultures of the Egyptians, Greeks, Romans, Arabs, Mayans, Hindus and Buddhists used flowers and herbs in their healing because they understood the amazing healing properties of them.
I often use flower essences in conjunction with Energy Healing, Distance Healing and Touch for Health or both people and pets to help remove any emotional blockages that are standing in the way of healing.
These products speed up the process of healing. They can be used either directly in the mouth or by putting the drops in tea or water or on the skin     
Essence use
Hold bottle between hands in reverence and ask "Please help me on my journey, thank you."  Let the essences work on the soul level and heal. Essences contain 20% alcohol. If you are allergic to alcohol please do not ingest. They can be used on the chest or on your pillow. May the blessings of those essences help you discover your healing journey.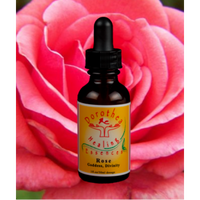 Rose Flower Essence
The flower essence of the rose is the first I ever made. While enjoying the natural landscape of California and looking out to the horizon, my attention was drawn to several rose bushes. One of them seemed to be glowing more than the rest.
The Rose essence is ideal to nurture and enhance love, kindness and creativity.
KNOW MORE